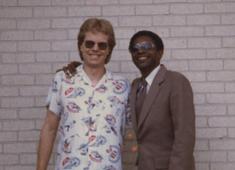 With over 100 albums to his credit, among them three Grammy winners, eleven Grammy nominees, and many other award winners, record producer Scott Billington balances a broad musical background and a keen ear with a knack for bringing out the best in the artists with whom he works. Scott makes records which are not only for their production values, but for their soulfulness. As half of the duo Tangle Eye (with Steve Reynolds), he has brought an uncommonly organic sensibility to the art of the remix. Scott has also been active in the music industry as a writer, multi-media author, graphic designer and musician.
Along with recordings by such legendary American musicians as Bobby Rush, Ruth Brown, Charlie Rich, Clarence "Gatemouth" Brown, Solomon Burke, Boozoo Chavis, Irma Thomas and Johnny Adams, Scott was involved early-on with such roots music innovators as Buckwheat Zydeco (his first national album, which was a Grammy nominee), the Dirty Dozen Brass Band, and Beau Jocque. For Rounder Records, he created the label's highly-regarded Modern New Orleans Masters series. Newsweek called the series "the best possible introduction to the deep, rich world of pop music made in New Orleans." He has worked with musicians as diverse as the African soukous superstar Tabu Ley Rochereau, trumpet legend Dizzy Gillespie and Boston's Klezmer Conservatory Band.
The body of Scott's work is characterized by a respect for tradition, but with a forward-looking vision that often inspires his artists to achieve the same. His roots-oriented records make full use of contemporary technologies and ideas, especially on remix projects such as the Tangle Eye album, Alan Lomax's Southern Journey Remixed. Yet, his work is ultimately about the pursuit of qualities such as emotion, spontaneity and engaged musicianship. "I like to capture situations where the music actually happens– people responding to each other and creating a collective groove, " says Scott. "There's an emphasis on pre-production — finding songs, working on musical arrangements and hiring the right players — but I leave room for accidents. I try to make records that surprise and move people"
As a writer, Scott's work has appeared in the Oxford American, Gambit, the Boston Globe and numerous other publications. He has lectured at Harvard University, the New England Conservatory of Music, and Loyola University, and at several Grammy in the Schools events. He currently teaches a class in music production at Loyola University. He is the author of Allons en Louisiane, an interactive CD ROM (alas, in the days before DVD!).
Scott worked for Rounder Records (now a division of Concord Music) for over forty years, serving most recently as Vice President of A&R. In fact, Scott met the three founders of Rounder Records before they had actually started the company. He lives in New Orleans with his wife, the children's author and musician Johnette Downing, with whom he often performs.
Awards
2022 – Grammy nomination (co-producer of Doc Watson's Life's Work: A Retrospective)
2017 – Living Blues Magazine Producer of the Year
2017 – Grammy Award (producer of Bobby's Rush's Porcupine Meat)

2016 – Slim Harpo Ambassador Award
2011 – Offbeat (New Orleans) Lifetime Achievement Award
2010 – Grammy nomination (co-producer of Woody Guthrie's My Dusty Road)
2007 – Sweet Soul Music Award, awarded by the Porretta Soul Festival, Porretta Terme, Italy

2007 – Grammy Award (producer of Irma Thomas's After the Rain)

2002 – Keeping the Blues Alive Award for Producer, awarded by The Blues Foundation

1996 – Offbeat Magazine (New Orleans) Best Producer Award (shared with Allen Toussaint)

1990 – Nominated as Producer of the Year, Boston Music Awards

1989 – Nominated as Producer of the Year, Boston Music Awards

1987 – Communication Arts Magazine Award of Excellence

1985 – Appointment as Colonel on the staff of Louisiana Governor Edwin W. Edwards

1984 – Communication Arts Magazine Award of Excellence

1982 – Grammy Award (co-producer of Clarence "Gatemouth" Brown's Alright Again!)​
Press
Music Inside Out interview with Gwen Thompkins